The game's rules :
The goal is to complete the 11 levels without cumming before the end (my count)
Level 1 :
Dressed in a garter belt road outfit with flesh-colored stockings, you will have to resist seeing me dildoing my pussy with my big dildo. Only a real precocious could crack at this first level!
Level 2 :
You'll see me pissing on myself like a little female dog !
Level 3:
It's starting to get tough, but you should get there, unless you're a precocious juicer. You should resist seeing me do a nice turd.
Level 4: I know you love it, seeing me suck my caviar like it's a good cock…
Level 5:
The moment when I go from a nice classy and elegant blonde, and to a fat slut covered in shit. Ecstasy!
Level 6:
I insert my fingers full of caviar at the back of my throat to make me gag like a big fat slut. The sauce starts to rise?
Level 7:
Imagine being the little female dog I am, sucking your cock while completely covered in shit.
Level 8:
Are you going to resist, not looking away so as not to cum, seeing me smash my ass with my legs wide apart, looking you straight in the eyes…?
Level 9:
And in this position?
Level 10:
Maybe the last position will be the one that will make you release all your juice for me, but you will have lost!
Level 11:
You have arrived at the last level, but you must not relax all your efforts, wait for the end of my countdown to enjoy (I spit at 0)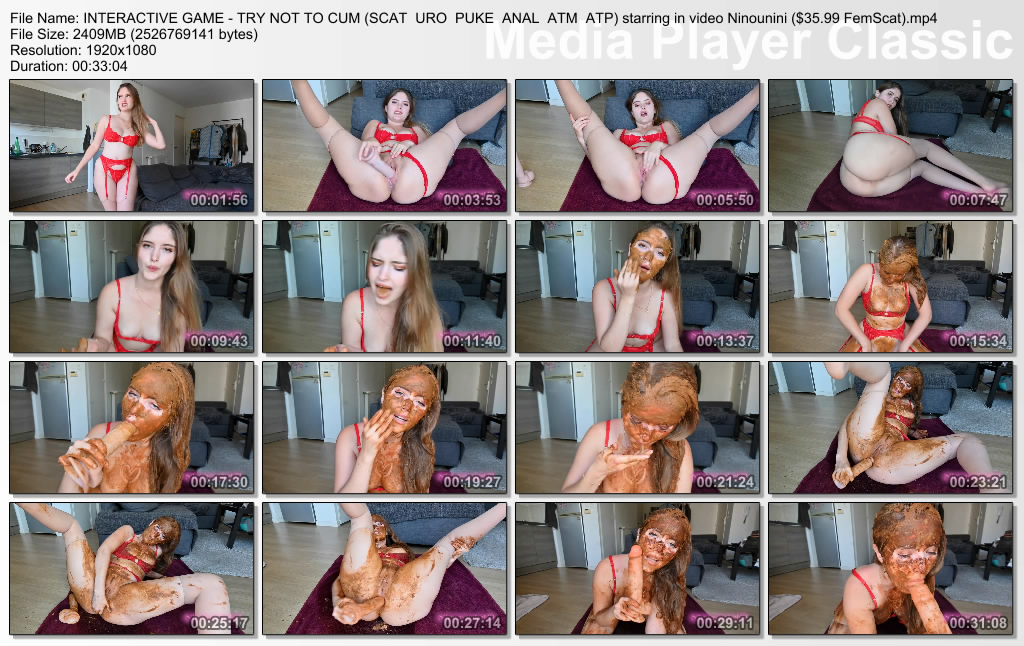 Category: Anal Play, Dine + Dump, Eating, EFRO, Instructions, Pissing, Smearing, Tasting, Vomit
Video Info: 3840×2160 Pixel @ 23347 kb/s
Audio Info: 2 Channels @ 126 kb/s
Length: 32min.
Format: MP4
Size: 5236MB
Language: French
The post INTERACTIVE GAME – TRY NOT TO CUM (SCAT / URO / PUKE / ANAL / ATM / ATP) starring in video Ninounini ($35.99 FemScat) first appeared on Extreme Scat Porn Site #1.