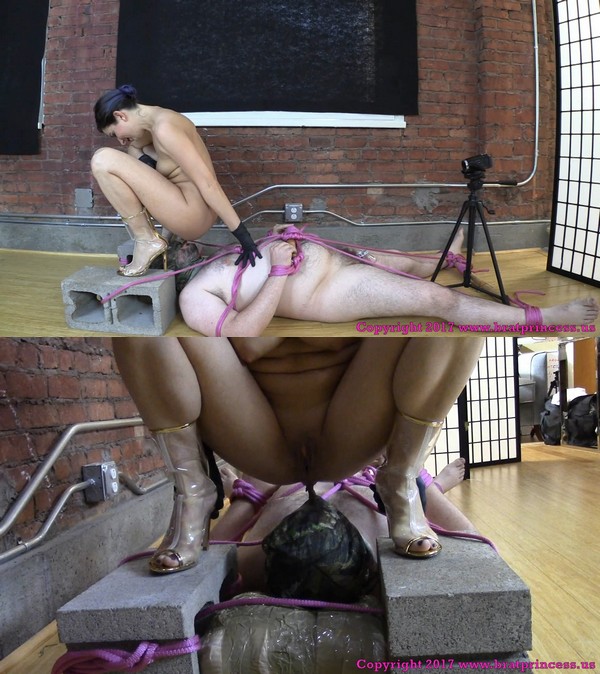 1080 HD This slave has proven to be a very good toilet. However, he is still very new to being a toilet. I've noticed, the toilet still has thoughts and feelings of its own. One of its vestigial opinions is in relation to blood. It has voiced a general aversion. Because this toilet will be used to serve Females, an aversion to blood can only be viewed as a hindrance. Beyond the particulars of the aversion, a toilet slave should really be trained to give up having its own ideas, in general. An aversion of any variety should be met with strong behavioral correction. So, I spent the better part of this day training the slave to accept menstrual blood. Rather than throw him into the deep end, I started him on a light flow day. I don't want to overwhelm it. I want to gradually re-condition it, so that the new behavior really takes. He's spent most of the day tied in this spot. In a previous clip, I begin the training with some gentle tampon sucking. The training in this clip picks up where we had left off hours before.
Now, I need for the slave to serve its purpose, fully. I need for it to take piss, shit and menstrual blood, all into its septic system. The piss and shit are very easy for it, at this point in its training. I had an average amount of piss for it to take. I had a less than average amount of shit on this day, due to my period. Oh, but the real joy in this clip is the slave's sheer revulsion as my menstrual blood dangles, threateningly, millimeters above its mouth. At first, I tried to ease the slave into acceptance, by just allowing the blood to drip onto its chin, almost inside – but not quite. A few drops transgressed the threshold of its parted lips and fell inside. That was only sort of intentional, in that I wasn't aiming to get any inside on day one, but I also wasn't avoiding it. And I certainly wasn't sorry when it happened. The slave had to just deal. It started retching. I hate it when it retches. It makes me feel like he thinks there's something abject about me. Abjection rhymes with rejection, and I don't like rejection. I remind the slave how I feel about rejection. After coaxing, it gets it all down: the piss, the shit, and its first few drops of menstrual blood.
Of course, next time, I expect it to take more. Tomorrow is a heavy flow day. I'm going to keep my menstrual cup inside by body all day and let it fill. When it's time to be emptied, the cup will contain about 2 oz of my blood. I can't want to watch that all go down.
Production Note: This clip shows the scene from three angles. The front, back and side are shown consecutively. No picture in picture is included with this clip. A picture in picture version is available separately.(22:02 long)
Clip Contains: Lola, Full Human Toilet Slavery, Scat, Pee, Slave Training, Menstrual Blood, male in bondage, female nudity, chastity
All of the following downloads are included when you purchase: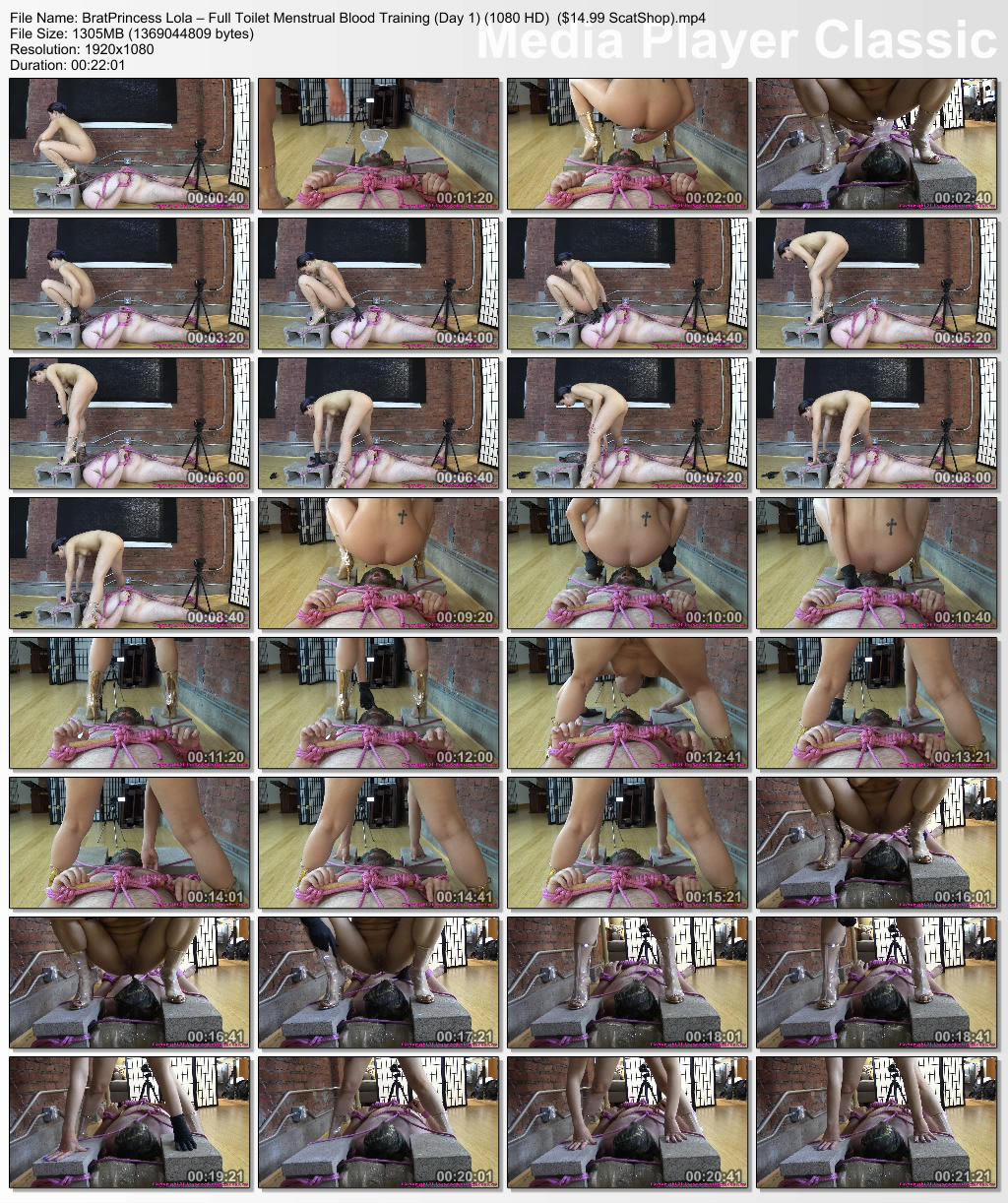 BratPrincess
Categories: Groups/Couples, Pee, Period Play, Scat, Toilet Slavery
Download #1:
Length: 22:02s
Resolution: 1920×1080
Download Format: wmv
File Size: 1 GB
BratPrincess
Categories: Groups/Couples, Pee, Period Play, Scat, Toilet Slavery
BratPrincess__Lola_____Full_Toilet_Menstrual_Blood_Training__Day_1___1080_HD____14.99_ScatShop_
The post BratPrincess: Lola – Full Toilet Menstrual Blood Training (Day 1) (1080 HD) ($14.99 ScatShop) first appeared on Extreme Scat Porn Site #1.