Goddess Tempest Interview
Hello my dears 😉 Today I'am proudly present another exclusive interview for toilet-fetish lovers. This time we had the honor to speak with Goddess Tempest!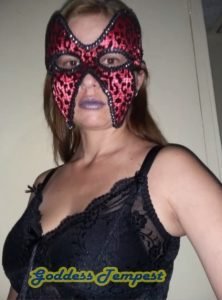 Dear Goddess Tempest, could you introduce yourself ?
Hi everyone, my name is Goddess Tempest. I'm a 34 year old female from North-West, South Africa.
Fetish isn't just a hobby for me. It's a lifestyle I truly enjoy very much.
Human toilet slavery is something I have been active in since I was 19 and it's by far my favorite fetish.
When was the first time you heard about toilet slavery ?



I grew up in a very conservative home.
In my senior year of high school I started dating my new boyfriend (now my husband) and he was the one whom introduced me to the world of kink as well as toilet slavery.
How did you get into full toilet play yourself ?
I was a few month shy of 19 when hubby (back then my boyfriend) told me about his kinks.
He introduced me to Devoted Sub (my current property and slave whom you'll also see in my video's).
Hubby was very patient with me because all of this was new to me, like a world I never knew existed.
It started out first with having my ass licked without taking a bath first. The thoughts of how "gross / wrong" it is raced through my mind and yet my own body betrayed me by getting aroused because it was so "wrong and taboo" The more I learned the more I wanted to learn.
Devoted Sub was with us a few months when I finally decided to give it a try by shitting directly into his mouth.
Could you describe your first session ? How did it feel ?



It was less than a week after my 19th birthday.
By that time Devoted Sub have been serving us a few months. I moved in with hubby and for my 19th birthday hubby gave me Devoted Sub as a present.
Devoted Sub bowed at my feet and declared himself my property. I think it was 3 days after that I used his mouth as a toilet the very first time.
Hubby assisted by helping me positioning myself (I squatted over Devoted Sub's open mouth).
It was nerve wrecking, you know that feeling of butterflies in your stomach the first time you kiss with tongue?
It was a lot like that, just much more intense. Looking down between my legs seeing my turd sliding out into his open mouth gave me actual shivers from excitement. I kept thinking to myself: "This is just wrong on so many levels but I LOVE it and don't want to stop!"